North Newark Little League/Newark RBI
North Newark Little League is a chartered Little League that is located in NJ's District 8. The League was founded in 1955 as the St. Francis Xavier Baseball League. The League is comprised of over 500 players participating on 38+ teams and 7 distinct divisions from ages 4 through 18. The League is also a member of Major League Baseball's RBI Program.
_________________________________________________________________________
2023 FALL LEAGUE SCHEDULES ARE NOW POSTED!!!

All of the Division Schedules are posted, and can be downloaded from the 'Documents Section' or tab above.
_____________________________________________________________________________
LADY WOLFPACK TRAVEL TEAM TRY-OUTS
12U & 18U TEAM
Join our 2023-2024 Travel Teams! We are happy to be able to offer travel softball at a cost that is affordable for the girls in our Program. All Travel players who are selected must register to play in our Fall Softball League. See above. There will be no additional cost to participate on the Travel Teams! Players selected will receive uniforms, warm-up tees, participation in tournaments, training clinics and more. See Try-Out Dates Below.
12U TEAM: FRIDAY, AUGUST 25TH AT 6:30PM AT KASBERGER FIELD/ FOR MORE INFORMATION CALL COACH KIARA 862-236-6584 or email us at nwkbaseball@aol.com
18U TEAM: THURSDAY, AUGUST 24TH AT 6:30PM AT KASBERGER FIELD/ FOR MORE INFORMATION CALL COACH JUAN 973-277-5432 or email us at nwkbaseball@aol.com
IF IT RAINS THE TRY-OUTS WILL BE IN OUR PROGRAM'S INDOOR TRAINING FACILITY ON KASBERGER FIELD
_____________________________________________________________

HURRY! FALL SEASON REGISTRATION IS STILL OPEN!!!
2023 Ages 6-17
Stay In the Game this Fall. Register Online Above through the 2023 Fall Season Registration Link. The Season will begin in the second week of September and end at the end of October. It is a great way to continue to play organized youth baseball and softball right here in our community. All information regarding the ages, divisions and fees are on the Fall Registration Notice which can be viewed or downloaded from the 'Documents' Section above. Please note that the number of teams in each division of play has been determined. Once this is done, the number of available spots are equal to the total number of players needed to fill the teams that the Program is going to field in the division in question. There is very limited space in some divisions right now, which means that they will close to new player registration soon. Don't get left out. Be sure to register soon!
IT'S AUGUST & WE MUST ORGANIZE THE FALL SEASON WITH ENOUGH TIME TO BE READY TO GO IN SEPTEMBER. IF YOU WAIT UNTIL LATE SUMMER TO REGISTER YOU MAY NOT BE ABLE TO DO SO AS OUR DIVISIONS FILL UP BEFORE THEN. DON'T WAIT!! REGISTER SOON !!!!
______________________________________________________________

2023 SPRING SCHEDULES ARE POSTED IN THE 'DOCUMENTS' SECTION ABOVE!!!

Senior League does not start until June/ 12U Girls Softball has a tentative schedule that was given to the coaches as we will be adding games against Hoboken RBI Softball

____________________________________________________________________
18U RBI SOFTBALL!!
Join the Newark RBI Softball League and play Competitive Softball right in your community. A majority of the 18U Season will be played after the conclusion of the High School Season. In addition, all girls who participate will be eligible to participate in the MLB-RBI Softball Tournament and represent their community on the Newark RBI Tournament Team!! Participation in the RBI Program provides unique opportunities NOT available elsewhere. Players are eligible for nomination to participate in the 2023 Elite Development Invitational. See Below;
The 2023 Elite Development Invitational will take place at the Kansas City Urban Youth Academy 6/15-6/20. It is a weekend long development camp featuring the top RBI and Youth Academy athletes from around the world. Current and former professional softball players, Team USA Athletes, and College Coaches will serve on the coaching staff. The top athletes from this event will be invited to the Breakthrough Series in August. If a player is selected to participate, it will be an all- expense paid trip.
Players who are High School Seniors are also eligible to apply for the RBI for RBI College Scholarship a Four Year, $5000. per year or $20,000 College Scholarship. Five Newark RBI Players have been past recipients. We invite you to join our RBI Softball Family. Newark Residency is not required. For more information email us at nwkbaseball@aol.com or reach out to Mr. Vince Coleman at 908-220-2503
____________________________________________________________________________________

2023 SEASON REGISTRATION IS NOW OPEN!!!
The 2023 Registration will again be completely online. All players must register online this year. There are no scheduled in-person registration dates. Registration Notices will be sent out to all players. The 2023 Registration Fliers are also posted in the Documents Section of this site (See Tab Above). Please refer to the Registration Flier to determine your child's League Age so you will know which division to register them in. They also contain information about sibling discounts. Because Little League and RBI determine League age differently, some 13 year olds will need to register in the Newark RBI Baseball New 13 Year Olds tab in order to register for the Junior RBI Division. We encourage you to register soon. We look forward to seeing you all on the ball field this spring!!!
PLEASE NOTE PLAYERS WHO TURN AGE 12 BY AUGUST 31,2023 SHOULD NOT REGISTER AS THAT AGE GROUP IS CLOSED. EMAIL US AT nwkbaseball@aol.com WITH THE SUBJECT 'WAITING LIST'. PROVIDE THE PLAYERS NAME, AGE, BIRTHDATE AND A CONTACT PHONE NUMBER AND WE WILL PLACE THE PLAYER ON THE WAITING LIST
Please note that you are encouraged to register as soon as possible so that the Program can be administered in a timely manner. Please note also that there is a late Registration Fee of $5.00 per player after February 20th. There will be no family discounts after the 20th as well. Once the number of teams in each division are established based on the registration totals to that date, space becomes very limited. So please make it easy on all of us and register on time!
___________________________________________________________________________
Best Wishes For A Happy & Healthy Holiday Season!!!
As 2023 Approaches so does our 2023 Spring Registration! Spring Registration for both Baseball & Softball will open online in January 2023. Stay tuned to this website and our social media linked above for more information very soon!
HAPPY 2023!!
________________________________________________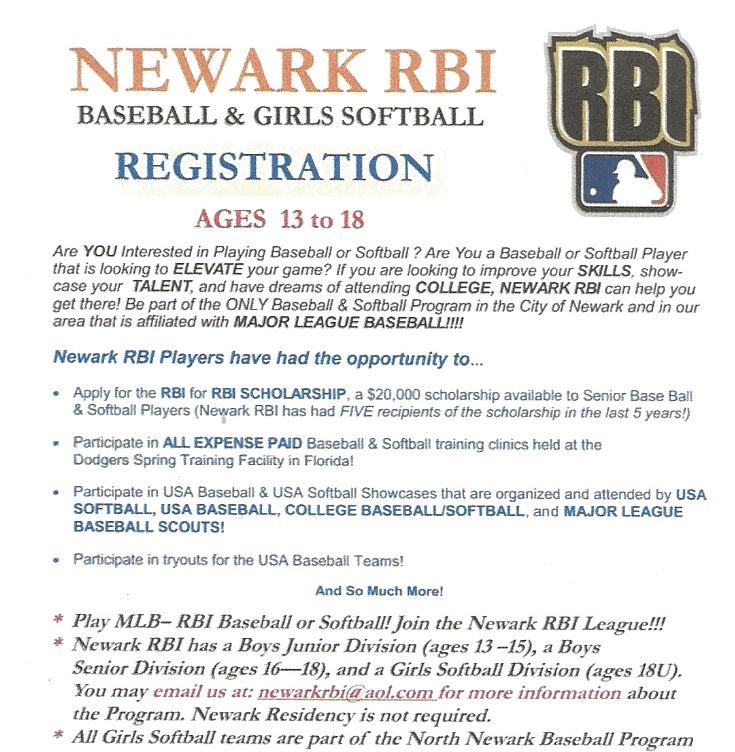 ____________________________________________________________________________________
Stay In The Know!!
Sign up for our League's Text Message Service at RainedOut.com!!
Be Notified About All League Events and When Games Or Events Are Cancelled Due To Bad Weather.
Copy and Paste the Link Below In Your Browser
https://www.rainedout.net/team_page.php?a=196b7504...
OR
To Sign Up Follow The Instructions on The Text Messaging Memo In The Documents Section On The Top Right Of This Website. It Is Easy....Sign Up Today!!!!
___________________________________________________________________________